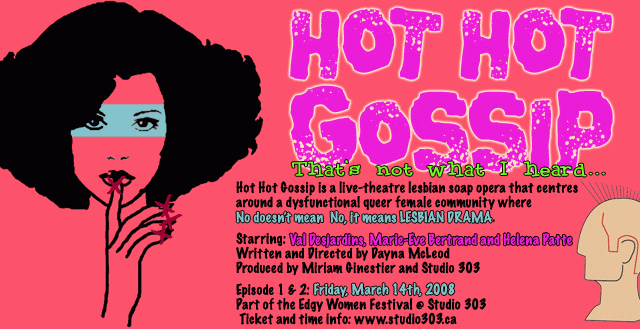 Hot Hot Gossip
A 4-part, intermedial theatre piece that centres around a dysfunctional queer female community where No doesn't mean No, it means LESBIAN DRAMA. Featuring live-action set against video projected backdrops, Hot Hot Gossip is a sexy, sassy lesbian soap opera where gossip rules whether it's true or not.
Starring Val Desjardins, Marie-Eve Bertrand, Sasha Van Bon Bon (Alex Tigchelaar), and Chantria Tram
Written and directed by Dayna McLeod
Produced by Miriam Ginestier and Studio 303
Episode 1, Hot Hot Yoga
Meet Sam and Mara: ex-girlfriends who are trying to split up the stuff from their messy break-up in a coke-induced haze. Mara has a score to settle; she's angry and can barely contain her disgust for Sam as Sam tries every trick in the book to get her into bed again. She mounts a gossip face-saving attack against Sam to rewrite their history and come out a winner in the incredibly shallow game of Who Broke Up with Whom.
Episode 2, Hot Hot Sex
Sam and Tina's relationship is new, fresh, and all about the sex. Reeling from her confrontation with Mara, all Sam wants is to get Tina into bed and do her up right with her 14″ Long Dong Silver strap-on. But Tina wants to talk about getting pregnant, and although Sam thinks it's just another kinky sex game, Tina is convinced that if Sam tries hard enough, she's the man for the job.
Episode 3, Hot Hot Therapy
Dr. Gwen Tran is a terrible gossip and go-to therapist for the lesbian queer community who just can't keep her mouth shut. Dishing the dirt to her BFF Mara, Gwen is preparing to go into session with the latest hot and heavy couple Tina and Sam. Gwen hopes Mara can handle the juicy details, having been melodramatically involved with Sam in the past. Is Tina actually pregnant, who is the father, and can she get a doctor's note to keep Sam and her circus freak dildo at bay? Will Mara survive the news, and what other manipulative plans does she have in store for Sam and Tina?
Episode 4, Hot Hot Jail Visit
Super dyke Sam is in jail for going down on a woman who fainted outside of a movie theatre, convinced that she could raise the woman's heart rate with cunnilingus. The woman revived, but the police have charged Sam with sexual assault. She's spent the night in a holding cell, and is now meeting with Mara, Gwen, and Tina to work on a defense strategy. Mara and Sam have history, but they'll have to put their issues on hold because Mara is Sam's lawyer. Dr. Gwen Tran has been brought in as an expert witness to testify to Sam's state of mind and sexual prowess. And to complicate matters further is an appearance by Sam's current girlfriend Tina, who says she's pregnant with Sam's baby!
Performed at:
2008: Studio 303, Montreal