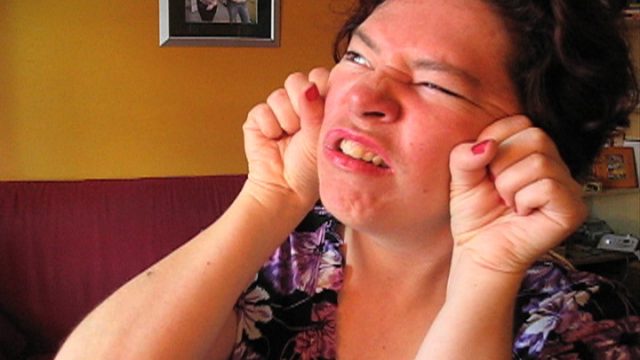 Ultimate SUB Ultimate DOM: Maria Von Trapp & Mary Poppins
Imagine Maria Von Trapp from The Sound of Music crawling on her hands and knees across the jagged cold stone floor of the nunnery to the Mother Superior, begging for mercy and looking for a spanking. Now imagine that Mary Poppins is the Mother Superior, wielding a dildo-sheathed umbrella and a ball-gag, and you have a glimpse into the explicit fantasy life of video artist, Dayna McLeod.
A Julie Andrews mash-up of The Sound of Music and Mary Poppins, Ultimate SUB Ultimate DOM pits Andrews against herself to satirize homophobic theories of homosexual narcissism, which dismisses same sex attraction as a treatable narcissistic disorder. The resulting SM scene confirms just how ludicrous these theories are without safe words, whips, chains, or leather gear: you will never look at Julie Andrews the same way again.
Ultimate SUB Ultimate DOM: Maria Von Trapp & Mary Poppins
Dayna McLeod, 2009
3:04 minutes, colour